Published on 03 November 2008
Hits: 4269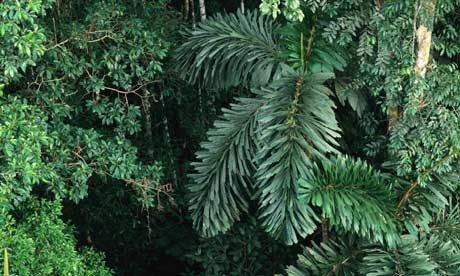 Photograph: Randy Green/GettyMarket-based answers to deforestation in Latin America are backfiring, say conservation groups

Oliver Balch in Buenos Aires
guardian.co.uk, Monday October 20 2008 10.21 BST
Article history

On paper, the idea looks like a conservation masterstroke. Take a huge swath of pristine rainforest, put a price on the rainfall it produces and other "services", and sell these off to rich philanthropists with a conscience.

That's precisely the rescue package dreamt up by investment house Canopy Capital. And it's working. The London-based firm has persuaded 10 wealthy individuals to buy into the "ecosystem services" of Guyana's heavily forested Iwokrama Reserve.

The logic is straightforward. Trees need to be worth more standing up than chopped down. Giving them a "utility value" is one way of achieving that.

"How can it be that Google's services are worth billions, but those from all the world's rainforests amount to nothing?" Canopy Capital's director, Hylton Philipson, is fond of saying.

Putting a price on trees' services — climate regulation, biodiversity maintenance and water storage, for example — is the latest in a long list of market-based measures designed to save Latin America's forests.

Governments across the region have bought into ecotourism, forest certification, biodiversity offsets and carbon emission trading in recent years.

Market-based mechanisms appeal because they appear a win-win, says Ronnie Hall, coordinator for Global Forest Coalition, an international coalition of environmental groups.

"Governments don't have to dip into the public purse so much, and private investors think they can make a profit out of it … It's very skewed. In the end, it's all become about money", she says.

As the world's financial markets totter, Latin Americans are wondering if the business theorists haven't hoodwinked them.

"The problems that have been caused by companies with their own rules cannot be solved by the same companies with the same rules," says Ana Filippini, spokesperson for the World Rainforest Movement, a Uruguayan-based conservation group.

Despite millions being poured into sustainable projects in the Amazon, for example, illegal loggers are still hard at work in the world's largest rainforest. Monthly deforestation rates in August were almost three times higher than the same time last year, according to Brazil's National Institute for Space Research.

Business-based schemes also have a habit of generating unintended consequences. The Global Forest Coalition lists examples in a new report, Life as Commerce: the Impact of Market-based Conservation.

Take tree plantations. Under the Kyoto protocol, the carbon captured by so-called carbon sinks can be sold to buyers in developing countries. As a result, companies across the continent have been fighting over themselves to plant fast-growing plantations for the profitable carbon market.

The climate change benefits of monoculture plantations, however, are arguably offset by the enormous damage they cause to local biodiversity.

In endorsing commercial plantations, timber certification schemes such as the Forest Stewardship Council are also cited in the report for doing more harm than good.

Market-based schemes fail the residents of Latin America's forests as much as the forests themselves, says the Global Forest Coalition.

Often complex and poorly explained, business mechanisms frequently leave local inhabitants sidelined and disenfranchised.

In Costa Rica, for example, conflicts have flared up among indigenous groups after individuals in these communities sold medicinal plants to pharmaceutical companies — a practice known as bioprospecting.

Forest communities in Colombia, meanwhile, have reportedly lost control over what trees to plant on their own land after agreeing to participate in a carbon-credit reforestation programme.

In some cases, the forests they were regenerating have been reclassified as stubble to make way for timber plantations.

"Although there's a theoretical opportunity for indigenous people, they can't really engage [with market-based schemes] because there's so many hurdles they have to jump," says Hall.

Just as they have with the financial markets, governments need to step in with a robust rescue plan, says Sergio Leitao, campaign director of Greenpeace Brazil.

"We can't leave such an important subject for the future of the planet as forest preservation in private hands," he says.

He cites the example of Paraguay, not a country associated with strong public governance. A recent moratorium on deforestation cut illegal logging in the forest-rich state by 83% in one year.

Simone Lovera, author of the report, suggests an alternative: leave the forest communities of Latin America to protect their natural habitat.

After all, the best-preserved forests today are found on indigenous territories, she points out. "Indigenous-led conservation initiatives have proven to be very cost-efficient," she says.

Regrettably, few residents of Latin America's forests are likely to make it to the next round of climate change talks in Poland in December. As business-minded negotiators brush down their suits in preparation, though, the message of cost-efficiency may win them a hearing.

Article found on The Guardian's website. To view original article, click here.
{jcomments off}